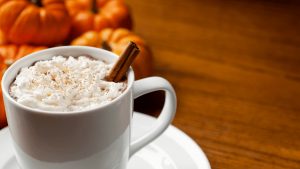 A favorite of many people across the board are fall flavors: cinnamon, nutmeg, pumpkin, you name it. In late fall: peppermint. For you, that means adding some appropriately fall menu items. There's no shortage of autumnal beers, from Oktoberfest to funky flavors from smaller breweries. 
Some warmer options are the classic hot toddy (tea and bourbon or rum) and Mexican hot chocolate.


As far as food, many local donut shops feature fall specials and are willing to partner with venues to get their product out there. It's a win-win; you get happy customers and they sell donuts. Additionally, consider some seasonal entrees made with pumpkin or butternut squash.
The cold tends to make people reluctant to leave the warmth of their homes, so they'll need extra incentive to make the hike. Try extending your happy hour to give everyone ample time and reason to stop in, especially with those fall flavor offerings. The more time you give people to get out and visit you, the better. Keep in mind that the days will start to feel shorter, so you don't want your happy hour to feel the same.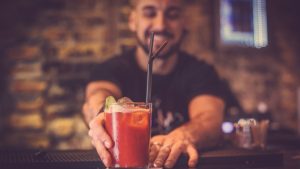 Make your establishment comfortable for you guests by keeping it warm and dry. You want it to be a place where people feel comfortable as soon as they walk in and take their coat off. 
Warm holiday or seasonal lighting also creates a cozy and cheerful vibe that'll get people relaxed. 
Additionally, make sure you either have a coat rack or ample space between tables for guests to hang their bulky outerwear. A popular feature among many bars these days are hooks under the ledge of the bar so that bar-goers can hang purses and coats underneath them without taking up too much space.
One of the most cheerful parts about the colder months are parties. People want a reason to cheer up and not focus on the cold weather. For example, you can have an adult onesie night, where people get to come out in their footie pajamas or animal onesies and feel like a kid again. The fun part is, not only are they cozy, but unlike children, they can order alcohol. 
Another great idea, especially as the holidays roll around, is an ugly sweater party. A trend that has stuck around since its inception a handful of years ago, people love donning the ugliest sweater they can find to see whose is the most atrocious. Add a fun incentive twist by offering a small prize to the ugliest sweater, such as a discount on food. 
We've gone over what to do to get people out to your bar during the hot months and now it's time to focus on the cold. With the busy holiday season and dropping temperatures, make your bar a warm and relaxing place where guests can let loose and destress. It's the time of the season…to spread your joy. Cheers!