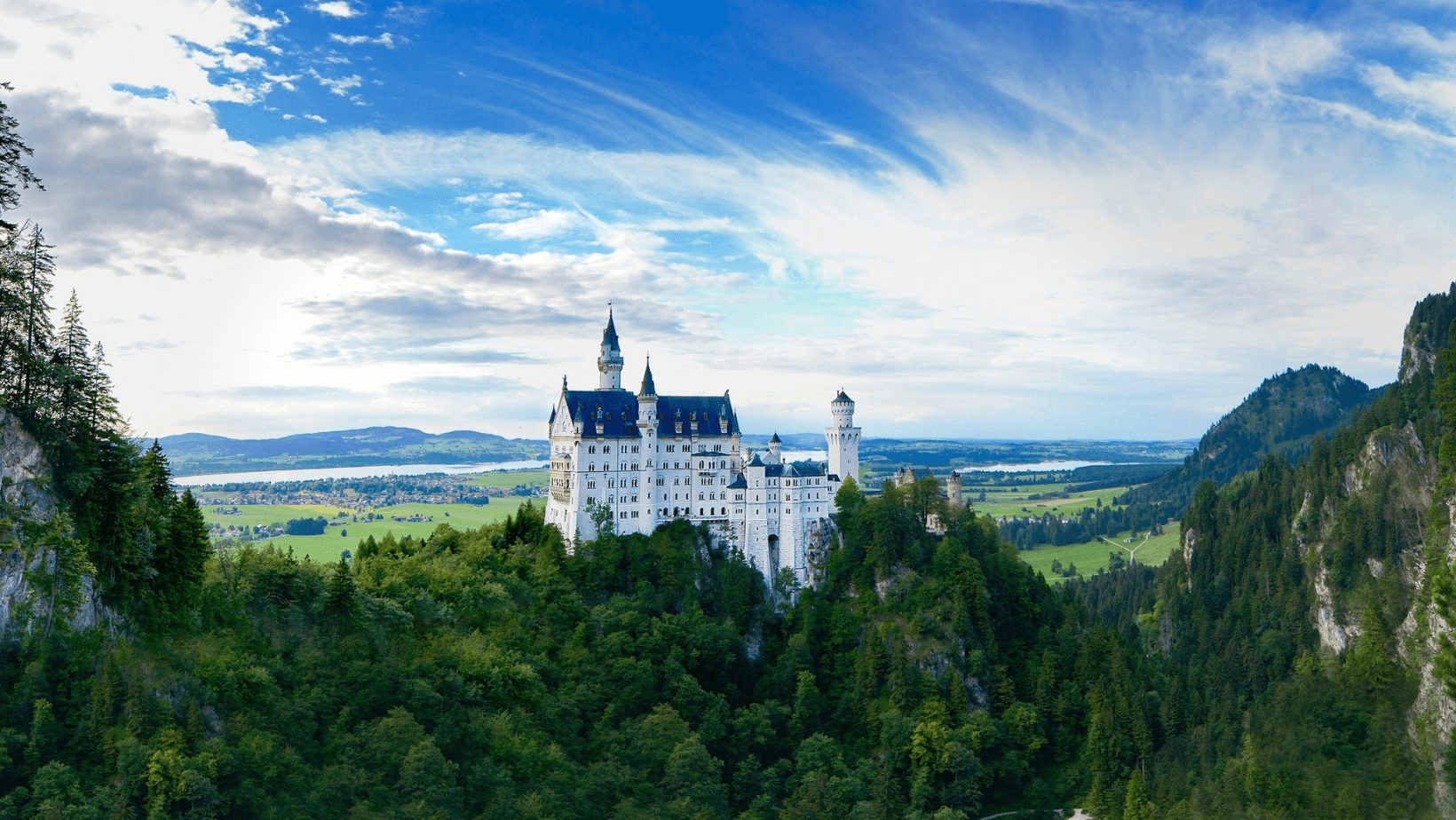 The Castles of King Ludwig II
The construction of Neuschwanstein Castle began in 1868 at the order of Bavaria's King Ludwig II. Ludwig II was known for being enigmatic. Due to his eccentricities, he was given the nickname "Mad King Ludwig." During his reign, he primarily focused on artistic endeavors, including building grandiose palaces in the Bavarian mountains that he loved.
Three of his commissions are particularly famous for their ornate and ambitious designs. His palace at Herrenchiemsee was ordered as a copy of the Palace of Versailles, but it was never completed. The Linderhof Palace was also patterned after an existing location, the Trianon palace. But the most famous of King Ludwig II's commissions is Neuschwanstein Castle.

Also known as the "Fairy Tale Castle," one of the most striking features of Neuschwanstein is its perch atop a rock ledge, which gives it an imposing silhouette. King Ludwig had a great admiration for world-renowned composer Richard Wagner and built Neuschwanstein Castle in his honor. This is displayed in the interior design of many of the castle's rooms, which were inspired by Wagner's characters.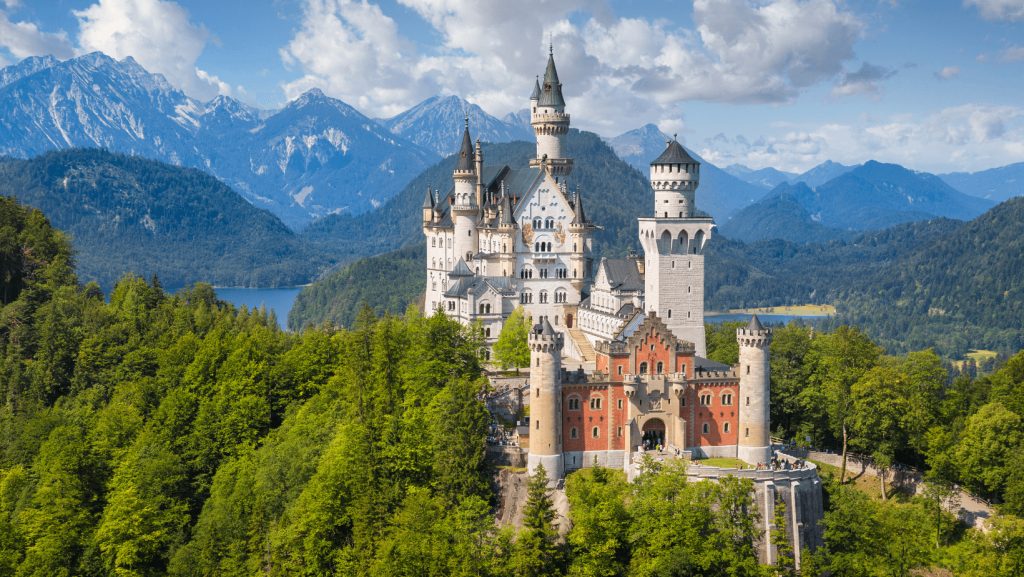 Construction on Neuschwanstein Castle
The castle construction broke ground during the summer of 1868 and the first foundation stone was laid the following year, in September of 1869. King Ludwig planned for construction to be completed in three years, but by 1873, only the gateway building was inhabitable. King Ludwig didn't live to see his vision realized, as he passed away in 1886. Despite the plans initially calling for over 200 total rooms, only 14 rooms were completed before funding was cut for the project.
Neuschwanstein has become famous as a castle of paradox. Despite its romanticized medieval design, King Ludwig also had it built with all the latest technological comforts. Unlike the medieval castles it was designed after, Neuschwanstein was equipped with such advancements as flushing toilets, a forced-air central heating system, an elevator, and telephone lines.

Other notable features of the castle include a garden surrounded by a walled courtyard, an artificial cave, and the two-story Throne Room. The Throne Room was modeled after a Byzantine basilica, decorated with a 13-foot-tall chandelier, a painted cupola, and elaborate floor mosaics. Despite its name, it doesn't contain a throne, since the room wasn't completed at the time of King Ludwig's death.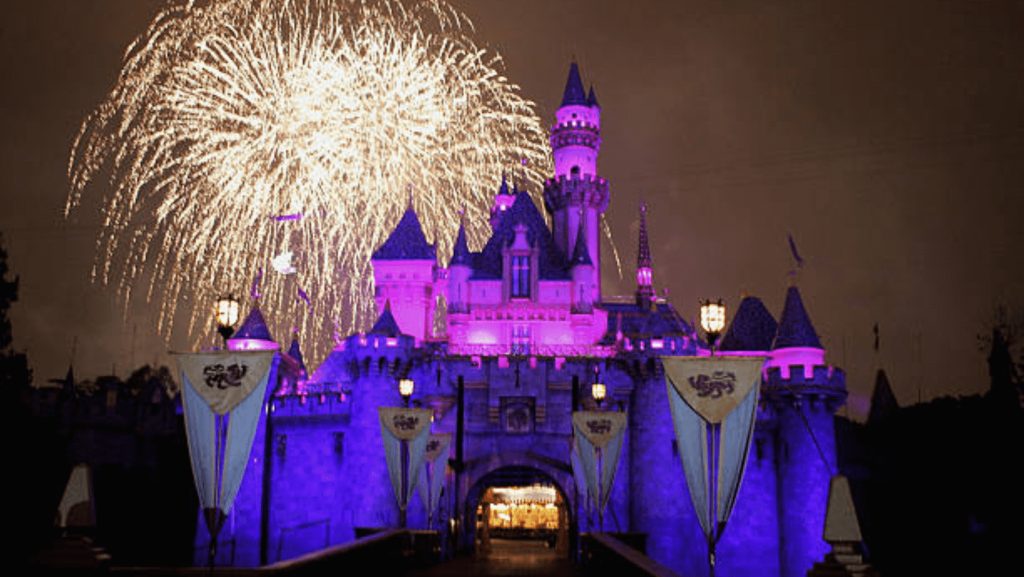 The Legacy of Neuschwanstein Castle
Even though it remains unfinished, Neuschwanstein Castle is still a popular landmark. It is one of the most-visited tourist attractions in Europe, receiving an estimated 1.3 million visitors each year. During the peak season, it is visited by as many as 6,000 tourists per day.
Neuschwanstein Castle has even served as the inspiration for another one of the world's most recognizable castles. Prior to the construction of Disneyland, Walt Disney and his wife Lillian embarked on a European tour that included a stop at Neuschwanstein. He was so impressed by the castle that he used it as his inspiration for Sleeping Beauty Castle, the centerpiece of Disneyland Park.

And that's not the only place you can spot a reference to this castle in a Disney theme park. The IMAX attraction "Soarin' Around the World" is currently available at four Disney parks around the world – Disney California Adventure, EPCOT, Shanghai Disneyland, and Tokyo DisneySea. This flight simulator attraction takes riders on an aerial tour of some of the most stunning natural and manmade locations around the world, including the Iguazu Falls in South America, the Great Pyramids of Egypt, and, of course, Neuschwanstein Castle.
Weekly Trivia
Enter your guess to reveal the answer.