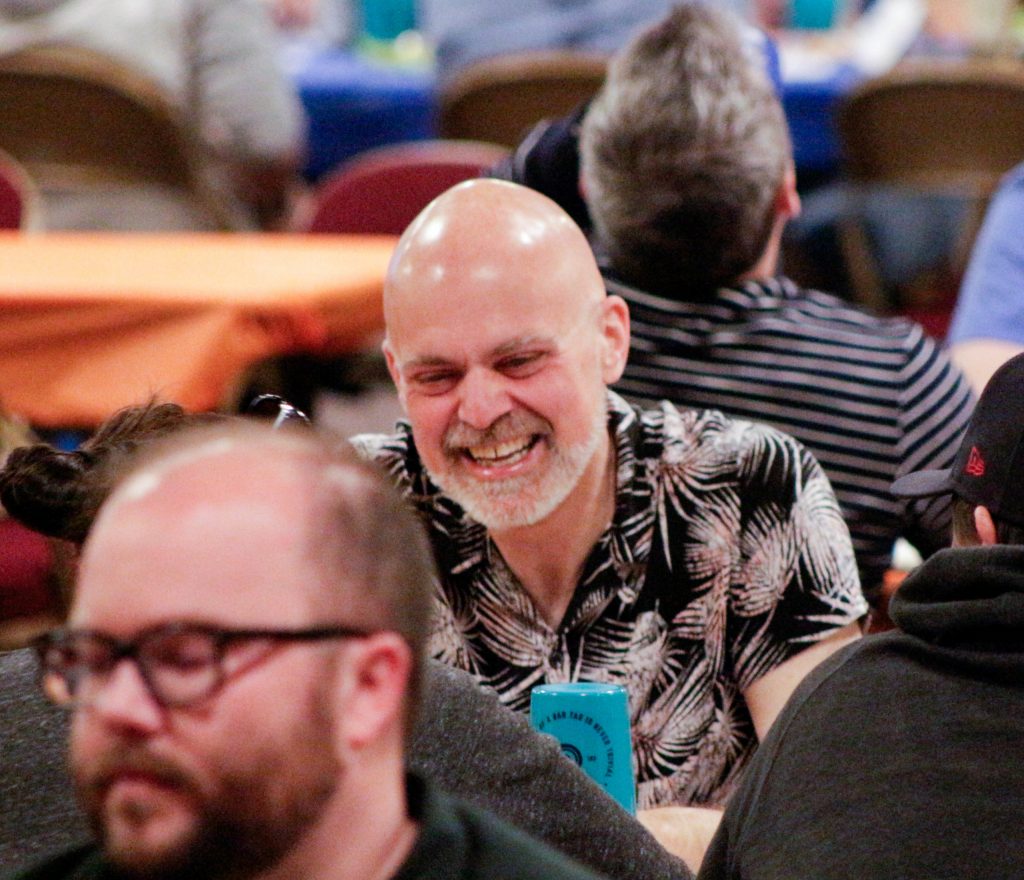 The inaugural Ludimentis was held in April 2015 at the Duke Energy Convention Center in Cincinnati, Ohio. In addition to the National Championship Trivia Game, attendees also participated in other competitions like Survivor Trivia, Bracket Trivia, and Team Feud Challenge.
The next three consecutive years, Ludimentis made its return to the Duke Energy Convention Center, with hundreds of players from Portland, Oregon to Pittsburgh, Pennsylvania arriving to compete each year.
For the fifth and final Ludimentis in 2019, we traveled across the river to the Northern Kentucky Convention Center in Covington. With 75 teams vying for the victory, both first-time competitors and returning champions alike made for tough opponents.
After 2019, Ludimentis was suspended to allow for more focus on delivering incredible Trivia Nights at weekly Last Call Trivia shows around the country. However, the hundreds of teams and thousands of players that competed throughout the five-year history of Ludimentis have forever cemented their legacy as Trivia champions.
Ludimentis brought out a competitive crop of teams each year, all vying for the title of National Trivia Champion. Let's take a look at some of the highlights from each year's tournament.
The inaugural Ludimentis was held on Saturday, April 25th, 2015. A total of 61 teams from across the country attended the first National Trivia Championship to compete for a cash prize pool of $10,000.
At the end of the epic showdown, Torgo emerged victorious with a final score of 84. Second place went to Tyrannosaurus Sex with a score of 82. Two teams tied for third with a score of 80 and after an exciting tiebreaker round, Going Solo/987 MacNubbit claimed the third place spot.
| | |
| --- | --- |
| 84 | Torgo – $6,000 – Last Call Trivia National Champions |
| 82 | Tyrannosaurus Sex – $3,000 |
| 80 | Going Solo/987 MacNubbit – 3rd Place Tie-Breaker Winners – $1,000 |
| 80 | 89.3 Trivia Tuesday |
| 78 | Amy's Cupcakes |
| 77 | Mooseknuckle Sandwich |
| 76 | The Russians |
| 75 | Bazinga |
| 75 | Hello Pants |
| 75 | The Oneders |
| 69 | I Just Blue Myself |
| 67 | Those Aren't Pillows |
| 66 | Plural Rural Jurors |
| 65 | Everlong Erection of Bolton |
| 63 | Little Lebowski Urban Achievers |
| 62 | BigMcLargeHuge |
| 61 | Trivia Crushers |
| 58 | Play Free Nerd |
| 58 | Sharknado 4: Curse of the Sharknado Island |
| 56 | Rubik's Pube |
The second annual Ludimentis was held on Saturday, April 23rd, 2016 and hosted by John Bromels. This time around, 73 nationwide teams made their way to Cincinnati, Ohio to compete for $10,000 in cash prizes and, of course, the glory of victory.
This year, The Oneders emerged as the National Trivia Champions. They were followed closely by Trivia Newton John in second place and Random Answer Generator in third place.
On Saturday, April 29th, 2017 the third annual Ludimentis returned to Duke Energy Convention Center in Downtown Cincinnati, hosted by Adam Stone. It was the largest event turnout to date, with 89 teams studying hard and eager to compete.
It was also the closest finish yet. Two teams finished with the top score of 90 and after a thrilling tiebreaker, SIDS Vicious and the Baby Shakers claimed the title of National Trivia Champions, with Leonard and Penny in second place. A whopping four teams all tied for third place with 89 points and The Triviacorns earned the final spot on the podium in the tiebreaker round.
As the escalators climb to the ballrooms at the Duke Energy Convention Center in Cincinnati, Ohio, there is a tangible excitement in the air. Banners reading "LUDIMENTIS" are hung and balloons are scattered about. Friendly faces welcome team by team, helping them to sign in and get situated. A couple of teams gather at their tables hours early, just to prepare.
Players laugh and talk with one another, drinks in hand. They scope out their competition knowing that they could be sitting next to the team who will take home the grand prize at the end of it all. Or that it could be them.
As teams flood in, the anticipation becomes stronger. In the corners, there are workers and bartenders getting ready to serve a delicious assortment of snacks and drinks. People gather around the merch area, happy to buy Last Call Trivia t-shirts to rep their favorite trivia company, while also giving money toward an important cause, the Alzheimer's Association.
SURVIVOR TRIVIA
To start off the Ludimentis festivities, there is a special mini-game called Survivor Trivia – where it's "every brain for itself", as your favorite host, Adam Stone, says. Players flood to the tables at the front of the room, ready to get warmed up for the bigger event to come and for a chance to win huge cash prizes.
Survivor Trivia boasts a unique Trivia format. After each round, anyone who does not guess the correct answer is out of the game and must leave the area. As the questions go on, they get harder by the minute. Question by question, more and more people let out a defeated groan and hesitantly leave the area. Next thing you know, there are only two players left.
In an intense tie-breaker, with everyone watching the players in excited anticipation, they are faced with the most complex question yet. One player writes down an answer confidently. Time is ticking. Adam makes the "last call", and the second player quickly scribbles down an answer. When he announces the answer, both players instantly know who wins. The two exchange a friendly handshake with great sportsmanship.
Congratulations to Shane for being the last man standing!
LAST CALL FEUD – THE MINI GAME
Next up is one last mini-game – a Last Call Trivia favorite – Feud! Again, everyone rushes to the front of the room, but this time they stay standing. The crowd is excited for another fun game and yet another chance to win some cash. From the very first question, the energy is palpable. Arms quickly raised, eager to hand off their question to a Ludimentis Volunteer. Volunteers swiftly check their answers and run to the host stand with correct answers. It was chaos as players searched for someone to check their answer, paper after paper handed over, until it looked like no one would be a winner. Finally, the host shouts from the front of the room with the correct answer in his raised hand, "We have a winner! Congratulations to Steve Perry!"
Finally, it is time for the main event! Adam walks on stage with a great big smile and welcomes everyone to Ludimentis 2017. He gives a shout out to every team who won a bid to the 3rd Annual Ludimentis. Teams came from every Last Call Trivia city in the country! He thanks the volunteers and Last Call Trivia team for all of their hard work and for making this day possible. With a few quick rules and reminders, the event is off to a start!
As the first question is asked, the room becomes very quiet and still. Players huddle in, listening very carefully. Even if it weren't for the fun music playing, you can still hardly hear the whispers as teams talk amongst themselves to come to an answer. Hands raise at different times throughout the song and with different amounts of confidence. Runners scurry to grab the answers and pass them to the scorers. As the song quiets and Adam grabs his mic, everyone becomes completely silent again as they listen to hear if they got the first question right. Some teams shout their victory, while others let out a disappointed groan.
As each question is asked, the teams become louder and more comfortable. Everyone is still very intent on the trivia game but seems to start enjoying themselves even more. Teams gossip and tell stories. Some sing and dance to the music. Others stay completely concentrated. Teams interact and joke with one another. The energy is palpable and it feels fantastic.
RAFFLE TICKETS AND BONUS QUESTIONS
Throughout the game, raffle tickets are drawn and called out. Each time a player wins, they excitedly jump out of their seats and hurry to the back of the room to grab a t-shirt. Each bonus question is taken very seriously, as the person who guesses closest to the answer wins $300. This helps keep the players motivated and the energy high.
ANSWERS FOR ALZHEIMER'S
On a more serious note, Aaron Stapleton, Cincinnati's famous pink elephant, takes the stage for a bit. He speaks out about Alzheimer's – a cause very dear to Last Call Trivia's heart, and many of the players' as well. After his touching speech, he makes rounds around the room with our Giveaway Coordinator, Aaron Wright, and people give generously to the cause in return for a ticket in Split the Pot. The game continues on as he walks around the entire room. During halftime, people rush to the screens to see where their team is ranked in the game. After they nervously check their standing, people allow their attention to be drawn toward things other than trivia for a bit.
SPLIT THE POT
Toward the end of the show, a wonderful announcement is made. Charity donations for Split the Pot have exceeded $2,000! Soon, a winner would get half of that amount and the rest would go to the Alzheimer's Association. The big winners are The OLEO's! But what they did next surpasses the joy of them winning. They gave the money that they won straight back to the Alzheimer's Association! What a shocking and beautiful moment. Everyone in the room stands to applaud them, which was definitely deserved! 
BEST TEAM NAME
After teams had voted for the best team name, the results showed that "Dr. Huxtable's Sleep Study" won in that category!
As the game starts back up and the Final Question is asked, everyone gets their thinking caps on. Looking around, everyone is extremely focused with their eye on the prize. This is it, the results are finally in! In first place, winning a whopping $6,000, is SIDS Vicious and the Baby Shakers! In second place is Leonard and Penny, walking away with $3,000! Lastly, after an intense four-way tie breaker, The Trivicorns won third place!
THE WINNERS!
It was such an amazing day. Players walked away with not only lots of cash and fun prizes, but with lots of great memories with friends and knowing that they had co
ntributed to a great cause. The hard work that all of the trivia teams and Last Call Trivia members put into Ludimentis 2017 definitely paid off. We can't wait for next year!
FINAL STANDINGS
Carousel: images not found
HOPE TO SEE YOU NEXT YEAR!
Look for your team in this Facebook album and share your favorite Ludimentis 2017 moments in the comments below!
Let's take a trip back to Saturday, April 28th, 2018 for the fourth annual Ludimentis, hosted by Terrie McGoron. This year's tournament set another record with 91 teams registered to compete for the Championship.
After a challenging game of Trivia, A Rhesus is My Copilot finished in first place with a final score of 65. The Triviacorns also made the podium this year, finishing in second with a score of 64. Third place went to Free Drinks at the Bar, who put up 55 points.
The fifth and final Ludimentis was hosted on Saturday, April 27th, 2019. This year's Championship was held across the river at the Northern Kentucky Convention Center in Covington and hosted by Billy Fulton. A total of 75 teams came out to test their skills for a shot at $10,000 in cash prizes.
Ludimentis 2019 began the Friday night before, with a gathering of the Last Call Trivia team, including our hosts, for food, drinks, and good times.
Friendships both new and old communed to celebrate the knowledge, passion, and integrity that Last Call Trivia was founded upon.
The next morning brought anticipation and excitement. The LCT team gathered early on to establish a game plan over some donuts; Tables were covered, streamers hung, and a new t-shirt design laid out.
The resident Starbucks opened, the music began, and our first teams arrived to the venue.
Before we could start the big show, we had to engage our teams in a round of survivor trivia.
Question after question, the group dwindled and the spectators grew until our lone survivor remained, a member of long-time team and friends, 89.3 Trivia Tuesday.
Shortly after, it was time to begin the main event. The show began with a warm welcome from our host, discussing the rules and housekeeping.
With that, we began. Amidst chatter and scattering of beer cans and Starbucks, the excitement of getting a question correct was palpable for some teams. Their hoots and hollers carried across each quadrant, adding to the competitive spirit.
Eagerness swelled within the room when it came time for the final results. Cheers erupted as our top three teams were announced. Among the din, players congratulated each other and celebrated a trivia-filled day.
You might recognize our survivor trivia champion as a member of our first place team, 89.3 Trivia Tuesday.
Having just missed the podium in previous years, 89.3 Trivia Tuesday emerged as this year's National Trivia Champions with a score of 92. A Rhesus is my Copilot had a solid follow-up to last year's win, finishing in second place with 88 points. Torgo rounded out the podium, finishing in third place with 78 points. Ludimentis 2019 was an exciting cap to the five-year history of Last Call Trivia's National Championship Game.
To all who came out to participate and celebrate with us this year, all while raising money and awareness to end Alzheimer's: We thank you.
| | | |
| --- | --- | --- |
| 1 | 92 | |
| 2 | 88 | |
| 3 | 78 | Torgo |
| 4 | 71 | |
| 5 | 70 | We Drink and We Know Things |
| 6 | 67 | |
| 7 | 65 | |
| 7 | 65 | |
| 7 | 65 | Luzer |
| 10 | 64 | |
| 11 | 63 | |
| 11 | 63 | |
| 11 | 63 | |
| 11 | 63 | |
| 15 | 62 | It's Like We Have ESPN or Something |
| 16 | 61 | |
| 17 | 60 | |
| 18 | 59 | 3 Wise Men |
| 19 | 58 | Nobody Puts Baby in a Corner |
| 19 | 58 | WildCards |
| 21 | 57 | Recreational Gynecologists |
| 22 | 56 | |
| 22 | 56 | |
| 24 | 55 | |
| 24 | 55 | Pin Pals |
| 24 | 55 | Always $ in the Banana Stand |
| 27 | 54 | Strictly Anal |
| 28 | 53 | |
| 28 | 53 | Chargers |
| 30 | 52 | Quigley |
| 30 | 52 | The Riddlers |
| 30 | 52 | |
| 30 | 52 | |
| 34 | 50 | |
| 34 | 50 | |
| 34 | 50 | Uncorked |
| 37 | 48 | |
| 37 | 48 | |
| 37 | 48 | Red 5 |
| 40 | 47 | |
| 41 | 46 | |
| 41 | 46 | |
| 41 | 46 | |
| 41 | 46 | |
| 41 | 46 | Shedfaced |
| 46 | 45 | |
| 46 | 45 | Too Soon? |
| 48 | 43 | Fire 100 |
| 49 | 42 | I Love Lamp |
| 49 | 42 | |
| 51 | 41 | |
| 51 | 41 | |
| 53 | 40 | |
| 53 | 40 | |
| 55 | 39 | |
| 55 | 39 | SIDS Vicious and the Babyshakers |
| 57 | 38 | Bazinga |
| 57 | 38 | |
| 57 | 38 | |
| 57 | 38 | |
| 61 | 36 | Pitt of Cin |
| 61 | 36 | Mocha the Friendly Island Cat |
| 61 | 36 | |
| 64 | 34 | Bulldogs |
| 64 | 34 | |
| 66 | 33 | Brohio |
| 67 | 32 | |
| 67 | 32 | |
| 69 | 31 | Smartinis |
| 70 | 30 | |
| 71 | 29 | |
| 72 | 28 | |
| 73 | 27 | Mad Lemurs |
| 74 | 21 | |
| 75 | 15 | |
Over the past year, we have been conducting research, interviews, surveys, and group forums to determine what the future holds for Last Call Trivia. We're incredibly grateful to the Last Call Trivia Community for being dedicated to our Trivia Nights and continuously providing opportunities for us to improve.
Looking ahead, we're excited about the things to come. We're bursting with ideas that we can't wait to share with you, but in the meantime, we'd like to say this: Last Call Trivia is focused and committed to bringing you the best Trivia Night experience possible.
With this focus in mind, we've decided to make our 5th annual (and most recent) Ludimentis our last. In an effort to serve you to the best of our ability, we need to focus and prioritize on a micro-level meaning your local, weekly Trivia Nights. There will still be leagues, championships, scores, leaderboards, prizes, and more to keep you, our dedicated players, involved in the quest for glory and friendly competition.
We're thankful for all of the teams nationwide who have participated during the past five years of Ludimentis. Ludimentis began as a way to bring together the best and the brightest teams in the country while leveraging those efforts for a good cause. 
Over the years, we've crowned 15 teams – Torgo, Tyrannosaurus Sex, Going Solo, The Oneders, Trivia Newton John, SIDS Vicious and the Baby Shakers, Leonard and Penny, The Trivicorns, A Rhesus is my Copilot, Free Drinks at the Bar, and 89.3 Trivia Tuesday – and seen teams travel from all current Last Call Trivia cities. And you have raised over $6,000 for the Alzheimer's Association and we look forward to continuing our partnership with them in the future.
During the next few months, you may see minor, but effective improvements to our format, categories, questions, hosts, scoreboard, online experience and much more. You'll also have plenty of opportunities to make sure your voice is heard as we invite teams from all across the Last Call Trivia community to offer their valuable feedback.
Thank you for your patience, as well as the opportunity to help make your weeknights your standing appointment of fun!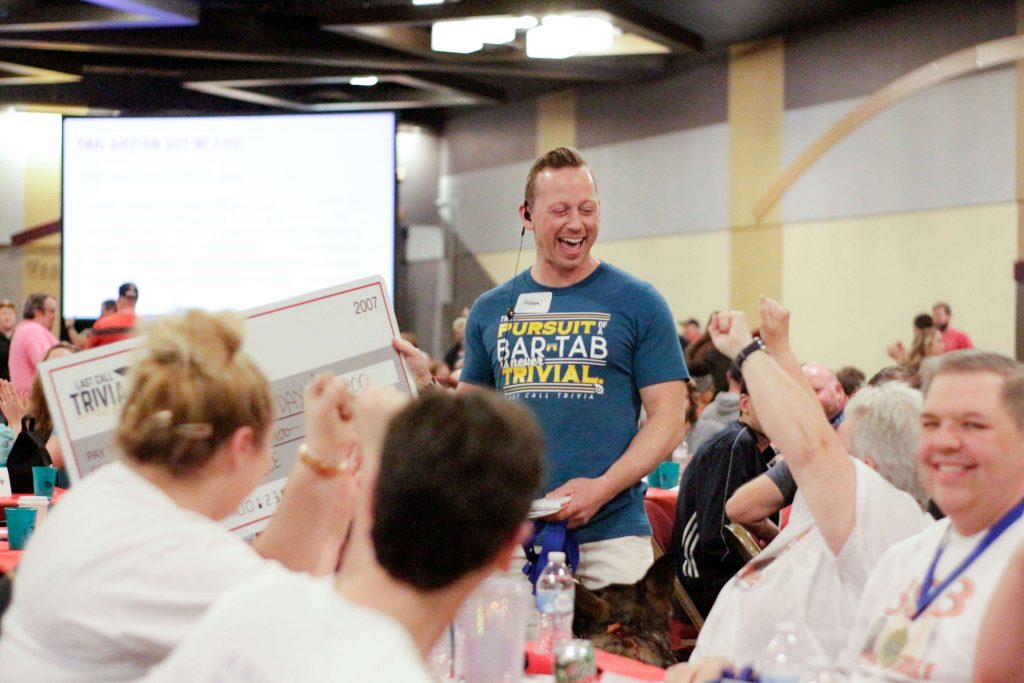 Thanks to the help of the hundreds of teams that participated throughout the history of Ludimentis, the competition raised thousands of dollars for the Alzheimer's Association, encouraged lifelong brain health, and celebrated the spirit of curiosity and learning through Trivia.
All of us at Last Call Trivia are committed to continuing to create excellent experiences for our Trivia players across the country. We're excited to uphold our core value to "stay curious" and we're thankful to all of the Trivia fans who are with us on the journey!